Towing Company in Winfield, KS
When an emergency auto situation strikes and you're left at the side of the road, don't hesitate to call Express Recovery. We're the premier wrecker and towing company in Winfield, Oxford, Hackney, Akron, and Cowley County, KS and are prepared to assist you in any way possible.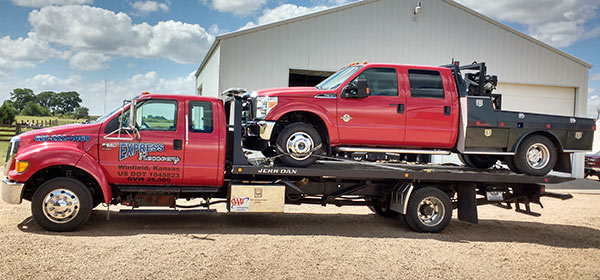 Your Local Tow Truck Service
When it comes to automobiles, accidents and emergencies can happen at the most inopportune times. Whether it's a blowout that sidelines you on a busy highway or a lockout situation in your local grocery store parking lot, trust that Express Recovery will be on hand to help you overcome the situation. Our roadside tow truck services encompass any issue, from blowouts and lockouts, to auto towing and tire repair—we even take care of wreckage towing if you've been in a devastating accident. Our aim is to get your vehicle off of the road fast—whether that means a quick fix or a quick tow.
Our towing company specializes in auto towing and wrecking small to medium-sized vehicles. Our 24-hour towing services make it convenient to request help, even when the situation itself is highly inconvenient. We'll make sure that we're on site as quickly as possible and that you're aware of the next steps that need to be taken at all times. Whether it's a simple tire replacement or towing away your totaled wreck, our capable, friendly professionals will ensure that the job is done right. Contact us today! See why people have been calling Express Recovery for all of their roadside, auto towing and wrecking needs since 2009:
Express Recovery services in Winfield, KS and the surrounding areas.
We offer wrecker and tow truck services for light and medium duty vehicles.
24-hour emergency services are available.
We offer a variety of simple roadside options, including lockout services.
Our towing company's staff are friendly, knowledgeable and professional, providing optimal tow truck service.